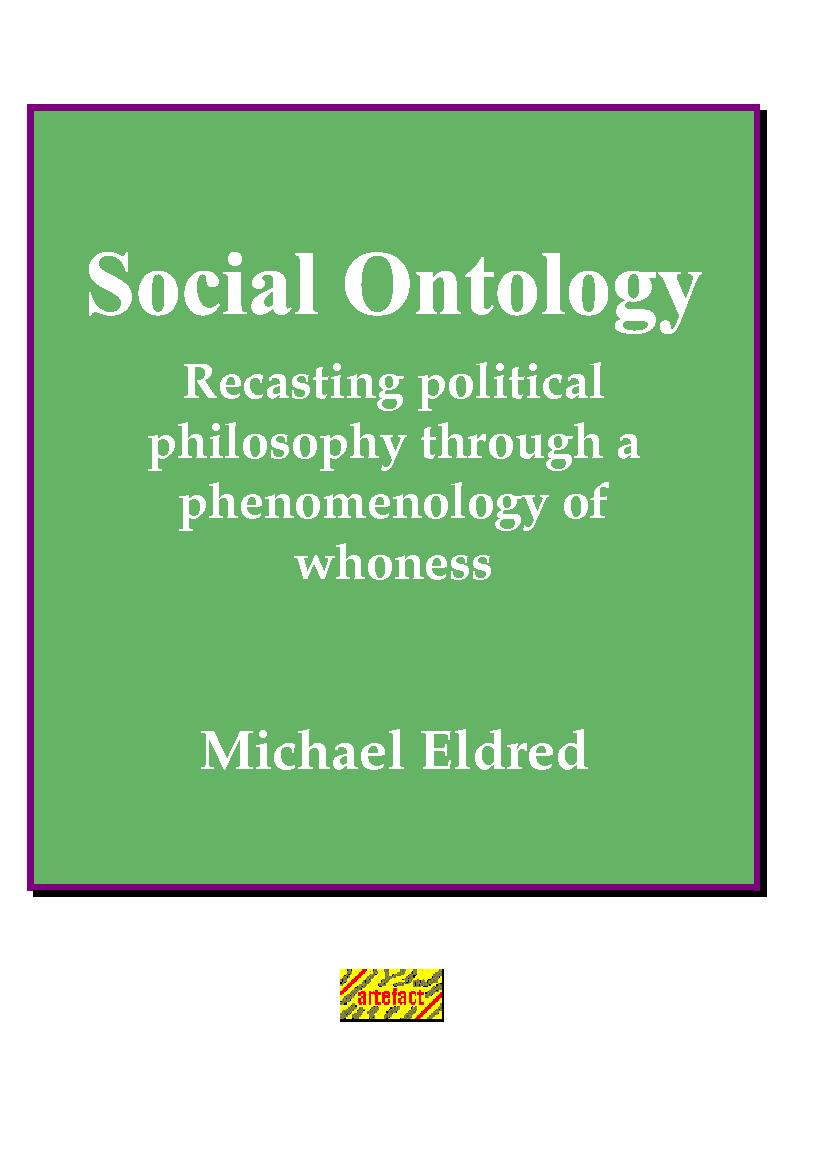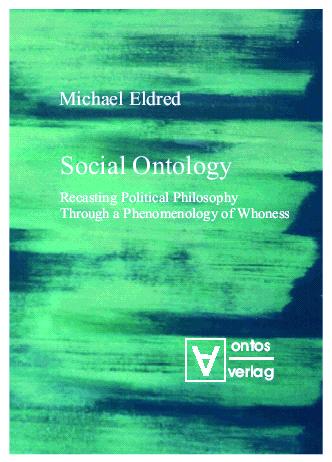 First published by ontos verlag, Frankfurt, Germany 2008. Available from online bookstores such as Amazon under the title Social Ontology : Recasting Political Philosophy Through a Phenomenology of Whoness ontos verlag, 2008 Hardback xiv + 688 pp. ISBN 978-3-938793-78-7. Also at Google Book Search. A second revised, emended and extended e-book edition, Version 2.1, July 2011, 785 pp. is available on this web-site.
Freedom, value, power, justice, government, legitimacy are major themes of this inquiry. It explores the ontological structure of human beings associating with one another, the basic phenomenon of society. We human beings strive to become who we are in an ongoing power interplay with each other. Thinkers called as witnesses include Plato, Aristotle, Anaximander, Protagoras, Hobbes, Descartes, Leibniz, Locke, Adam Smith, Hume, Hegel, Marx, Schopenhauer, Nietzsche, Heidegger, Schumpeter, Hayek, Carl Schmitt, Ernst Jünger, et al.

"Classical liberalism has neglected the ontological structure of the interplay of powers in the practical realm of a plurality of wills, and thus the ontological problematic of esteem, estimation, evaluation, validation, recognition, etc. among both human beings and things. In short, ... it is ontologically blind to the phenomenon of whoness. Instead it has imagined the free individual as a subject without a social world, and then tried to derive society from a bunch of atomistic individuals." Chapter 12 i)

"This is a fine study that ought to belong in any library collection that supports advanced work in social and political theory." Roderick M. Stewart, Philosophy Department, Austin College,Texas.
To find out what the book is not about, read the uncomprehending repudiation in apl. Prof. Dr. Dr. Heinz-Gerd Schmitz's review in Philosophisches Jahrbuch ISSN 00318183 Vol. 116 No. 1 2009 pp. 228-229.
A superior review from a decidedly critical Marxist perspective is Tony Smith's in Science & Society ISSN 0036-8237 Vol. 74 No. 4 2010 pp. 565-568. See my reply to Smith.